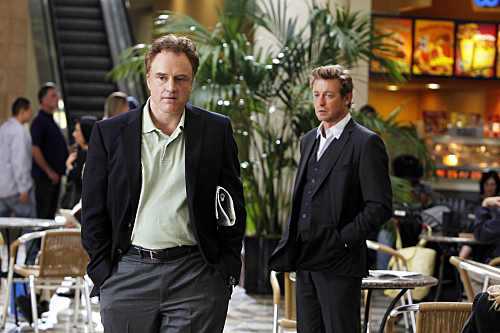 Released by Miss TV Girl
"The Mentalist" season finale was completely awesome. OK I know it aired a couple of nights ago, but I just got around to watching the episode today. Now in all honesty I was two steps away from not returning for the 4th season. Why? I started to feel like it was a drain to watch the show week after week; the cases weren't as entertaining and started to become a little predictable ("Castle" any one). But, tonights 2hour episode was a complete game changer and it had me on the edge of my seat up until the final reveal and demise of Red John, well done Bradley Whitford.
I don't know if a lot of people were surprised that Patrick Jane shot and killed Red John in cold blood, but I wasn't. From day one he has said "I will kill Red John "and boy did he keep his word. Creator Bruno Heller told TV Guide "We won't dodge any issues. Patrick won't wake up and discover it was all a dream. There
will
be consequences."
I am now so excited for next season, because I think the series really needed a game changer like this to shake up the series. By the way I am not really sure that Jane killed the real Red John. Once again great finale.