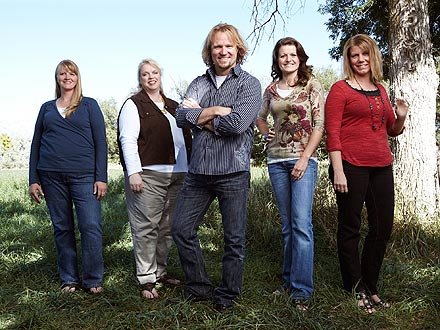 By Lisa Conn
Sister Wives is still my guilty pleasure despite the fact that it has gotten a little boring lately (especially since Christine stopped being jealous of Robyn and is no longer scorned that she is no longer Kody's favorite wife). Nevertheless, I am still hooked.
Last night Logan, Mariah, Madison, and Hunter travelled back to Utah on their Spring Break to visit family and friends. During a picnic in chilly weather, Logan scolded his siblings who were complaining about the temperature and told them to, "Man the f*%# up." I myself am a little loose with this word and so this made me giggle a little. Christine was horrified that Logan used such a vulgar word (Really? Your "husband" sleeps with 3 other women and you're bothered by a teenager dropping one little f-bomb? Can you say "big picture"?) but Janelle won the coolest polygamist award because she says she will ignore his foul language. This coupled with Janelle's statement last week that she would gladly accept one of her children if they happen to be homosexual has launched Janelle from my least favorite sister wife to a neck-and-neck race with Meri for top lady.
Later during the family business meeting, Robyn shows off her jewelry designs for their new business "My Sister Wives' Closet." Her jewelry designs mostly center around playing with ways to meld together the S and W in sister wives. If she wants to make this necklace as a gift then I think that would be a fine idea, but this as an idea for a business to sell to the general public…? I'm not sure anyone else is going to endorse polygamy by wearing her SW creations? I look forward to next Sunday to see what kind of shenanigans those crazy Brown polygs pull.