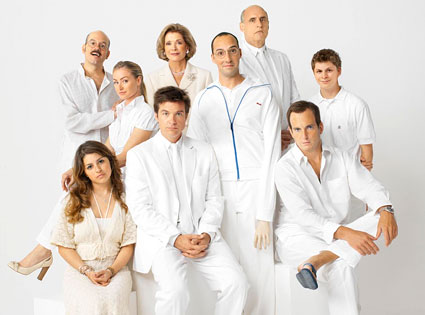 Released by Kim Potts/TV Squad
It's been five years since the Emmy and Golden Globe-winning family comedy
'Arrested Development'
left the airwaves, and, though we say this with a little grain of salt, it looks like the long-rumored big-screen version of the series
is finally a go
, maybe even for later this year.
And while we can't wait to see those wacky Bluths back in action, it's not like the cast members have been sitting around twiddling their thumbs since the 'Arrested Development' finale aired on Feb. 10, 2006. In fact, they've been a pretty busy bunch, including many projects in which they've continued to be co-stars ...
Jason Bateman (Michael Bluth)
The series' straight man (though he certainly had his share of hilarious moments), Michael was the Bluth family's second oldest son, and, far and away, the most responsible, ethical member of the whole clan. Since the 'Arrested Development' finale, Bateman has been hanging out mostly on the big screen, save providing the voice of gym teacher Larry Littlejunk in 'AD' creator Mitchell Hurwitz' short-lived Fox animated comedy 'Sit Down, Shut Up.'
In movieland, he has starred with Vince Vaughn and Jennifer Aniston in 'The Break-Up,' and Aniston again in the comedy 'The Switch.' He also co-starred in 'The Ex,' 'The Kingdom,' 'Mr. Magorium's Wonder Emporium,' 'The Promotion,' 'Forgetting Sarah Marshall,' 'Hancock,' 'The Invention of Lying,' Extract,' 'Couples Retreat' (again with Vaughn) and 'State of Play,' and had scene-stealing roles in 'Juno' and George Clooney's 'Up in the Air.'Next up, he has roles in the Simon Pegg/Nick Frost comedy 'Paul,' another collaboration with Aniston in the comedy 'Horrible Bosses' and co-stars with Ryan Reynolds in the comedy 'The Change-Up.' In 2010, Bateman and 'Arrested Development' co-star Will Arnett also launched
DumbDumb Productions
, a company focused on creating cool digital advertising.
Will Arnett (Gob Bluth)
George Oscar "Gob" Bluth, Jr.: Oldest Bluth son, magician, womanizer (and father of teen Steve Holt), author of the "I've made a huge mistake" catchphrase and, of course, Segway rider. Gob was also married, briefly, to a seal dealer played by Arnett's real-life wife, 'Parks and Recreation' star Amy Poehler.
The funny couple have expanded their family with the birth of sons Archie and Abel, while in TV land, they once again co-starred when he guested on an episode of 'Parks and Recreation.'
Arnett has also made memorable appearances on '30 Rock,' as Jack Donaghy's corporate rival Devon Banks, co-starred with Bateman in 'Sit Down, Shut Up,' co-starred with fellow 'AD' star David Cross in the comedy 'The Increasingly Poor Decisions of Todd Margaret' and, earlier this TV season, co-starred with Cross and Keri Russell in the short-lived Fox comedy 'Running Wilde.'
On the big screen, Arnett has been just as busy, co-starring with Poehler in 'On Broadway,' 'Spring Breakdown,' 'Blades of Glory,' 'Horton Hears a Who,' 'The Borrowers' and 'Monsters vs. Aliens,' and also co-starring in the comedy flicks 'The Rocker,' 'Hot Rod,' 'The Comebacks' and 'Semi-Pro.' His distinctive voice has led to voicework in 'Despicable Me,' 'G-Force," Ratatouille' and 'Grindhouse,' as well as commercials for GMC and Lamisil. Up next, he stars in the comedy 'Goats,' as well as 'Space Invaders,' penned by fellow actor Justin Theroux.
Tony Hale (Buster Bluth)
The youngest son of the Bluth clan was also the most babied by mom Lucille, which led to Buster's awkward social interactions. He spent years studying everything from cartography to 18th century agrarian business principles, was a frequent participant in medical experiments and, to finally try to break free from his mother's control, dated his mom's much-older-then-him best friend, also named Lucille (Liza Minnelli).
As for Hale, he has remained busy on the tube and the big screen. He had a recurring role on 'Chuck,' as Buy More corporate toady Emmett Milbarge, and 'Numb3rs,' and co-starred with Andy Richter in the short-lived NBC comedy 'Andy Barker, P.I.' He also guest starred on 'ER,' 'Justified,' 'Community,' 'United States of Tara' and 'Human Target,' in music videos by Fall Out Boy ('Beat It') and Switchfoot ('Awakening') and starred in the NBC Web series 'Ctrl.'
At the movies, he's co-starred in 'RV' with Will Arnett, 'Unaccompanied Minors' with Jessica Walter, 'Stranger Than Fiction,' 'Because I Said So' and 'The Goods,' and next co-stars in the dramedy 'Happythankyoumoreplease,' written and directed by 'How I Met Your Mother' star Josh Radnor.
Jessica Walter (Lucille Bluth)
Manipulative mama Lucille took advantage of son Michael, tortured daughter Lindsay about her looks, largely ignored son Gob and infantilized son Buster, while always plotting to keep as much of her ill-gotten wealth as possible and abusing drugs, alcohol and her housekeepers.
In real life, Walter, who turned 70 in January 2011, has been just as busy. Since the 'AD' finale in 2006, she starred as grandma Tabitha Wilson on the first season of '90210,' and currently stars as spay mama Mallory Archer on the FX animated comedy 'Archer' and as retired -- and newly separated -- mama Elaine Robbins on the TV Land sitcom 'Retired at 35.'
She's also playing a randy widow who wants to hook up with Leonard on this week's 'Big Bang Theory,' and in April, she begins a stint on Broadway, playing -- what else? -- an overbearing mama, Evangeline Harcourt -- in a revival of 'Anything Goes.'
Michael Cera
(George Michael Bluth)
George Michael was the perfect son, student and worker -- he was "Mister Manager" at the Bluth banana stand -- but was plagued by shyness, nervousness and his forbidden-love crush on his cousin Maeby, who he kissed, and then found out he wasn't related to by blood, because her mother, Lindsay, was actually adopted.
Cera's understated performance, especially amidst such a talented adult cast, proved to be a huge breakout role for the Canadian actor, who has gone on to big-screen success in comedies like 'Superbad,' 'Juno,' 'Paper Heart,' 'Youth in Revolt,' 'Nick and Nora's Infinite Playlist' and 'Scott Pilgrim vs. the World.'
He and best friend and 'Greek' star Clark Duke also created the Internet series 'Clark and Michael,' on which fellow 'AD'-ers David Cross, Tony Hale and Mitch Hurwitz have popped up, provides the voice of P.A. announcer Sal Viscuso on 'Children's Hospital,' and, as a musician, has recorded with Weezer, toured with Mister Heavenly and formed the band The Long Goodbye with Clark Duke.
Up next, Cera is producing a slacker sitcom,
'13th Grade,'
for FX, and will make guest appearances on the show.
Portia de Ross (Lindsay Fünke)
Lindsay was the shallow, shopping-addicted Bluth sister, who, it was revealed in the series finale, had actually been adopted by the Bluths, who added her to their family only to keep a business rival family from adopting her.
As for her post-'AD' series career, de Rossi (birth name: Amanda Lee Rogers) played Julia's (Joely Richardson) girlfriend Olivia on 'Nip/Tuck' and starred as supercontrolling boss Victoria on ABC's sadly short-lived sitcom 'Better Off Ted.'
De Rossi also married longtime girlfriend and talk show hostess Ellen DeGeneres in 2008 (and legally changed her name to Portia Lee James DeGeneres last year), and, in Nov. 2010, released the autobiography 'Unbearable Lightness,' in which she discusses her bout with anorexia and being diagnosed with lupus.
David Cross (Tobias Fünke)
Lindsay's husband was a chief resident of psychiatry, until he lost his license, then decided it was his destiny to become an actor. Tobias' most hilarious trait was that he was a "never-nude," suffering from a condition in which he was terrified of being naked, and always wore a pair of cut-off shorts, no matter what his activity, underneath his clothes.
Post-'Arrested Development,' Cross published his first book, 'I Drink for a Reason,' co-starred with Will Arnett on 'Running Wilde,' and appeared in the Beastie Boys concert flick 'Awesome; I F**kin' Shot That!' and the Bob Dylan biopic 'I'm Not There.' He also guest-starred on 'Family Guy,' 'Law & Order: Criminal Intent' and 'Important Things with Demetri Martin,' starred with Michael Cera in the movie 'Year One,' had movie roles in 'Megamind,' 'Alvin and the Chipmuks' and 'Kung Fu Panda,' and did voicework for the Jack Black videogame 'Brutal Legend.'Next up, he again provides the voice
for Master Crane in the 'Kung Fu Panda' sequel.
Jeffrey Tambor (George and Oscar Bluth)
Known as Pop-Pop to his grandchildren, George Bluth was married to Lucille, who committed the business crimes, we learned in the series finale, for which George had served prison time. He escaped rom jail, faked his death and then hid out in a Bluth Company model home; at the end of the series, he joined Michael and George Michael in fleeing the family nest and hightailing it to Cabo.
As for Tambor, he has continued to be a frequent TV presence, co-starring with John Lithgow in the short-lived NBC comedy 'Twenty Good Years' and the short-lived CBS comedy, with Raquel Welch, 'Welcome to The Captain.' He's also Mr. Big on 'WordGirl,' guest starred on 'Archer' with Jessica Walter and 'Running Wilde' with Will Arnett and David Cross and has had roles in big-screen projects like 'The Hangover,' 'Monsters vs. Aliens,' 'Hellboy II,' 'The Invention of Lying' and 'Tangled.'
Up next, he co-stars with 'AD' son Jason Bateman in the March 18 comedy 'Paul.'
Alia Shawkat (Maeby Fünke)
The teen daughter of Lindsay and Tobias, Maeby was given to trying outrageous antics to get the attention of her self-absorbed 'rents, including pretending to be a wheelchair-bound girl named Surely (get it?) to get donations from her classmates and pretending to be a movie studio executive, a fake job that she became successful, and famous, at.
Since 'Arrested Development' aired its series finale, Shawkat has had a recurring role on the short-lived USA series 'The Starter Wife' and guest starred on an episode of FX's 'The League,' and has had an active movie career that included roles in 'The Runaways' and 'Whip It.'
Up next, she co-stars with Ed Helms and John C. Reilly in the big-screen comedy 'Cedar Rapids,' has roles in the comedies 'That's What She Said' and 'The Oranges,' and is co-writing, co-producing and possibly starring in 'Stitch N' B*tch,' an HBO comedy series with friend and 'Whip It' co-star Ellen Page.
Ron Howard
(The Narrator)
Howard was the show's executive producer and uncredited narrator, though he often referenced the show and himself while commenting on the Bluth's activities, like when Bluth publicist Jessie (Jill Ritchie) mockingly called George Michael "Opie," prompting Narrator to warn, "Jessie had gone too far, and had best watch her mouth."
In the series finale, Howard made his only on-camera appearance on the show, playing himself during a meeting with teen studio exec Maeby, and cleverly telling her that her life story would make a better movie than a TV show.
Since 'AD,' Oscar, Emmy and Golden Globe winner Howard has produced and/or directed flicks like 'Curious George,' 'The Da Vinci Code,' 'Changeling' and 'Frost/Nixon,' and is an executive producer on the TV series 'Parenthood.'
His latest directorial effort, the Vince Vaughn/Kevin James dramedy 'The Dilemma,' hit theaters in January, and up next, he's directing the movie adaptation of Stephen King's 'The Dark Tower,' is producing 'Cowboys & Aliens' and 'J. Edgar' (with director Clint Eastwood and star Leonardo DiCaprio) and, it was rumored earlier this month, may be interested in directing a '24' movie after serving as a producer on the Kiefer Sutherland series.