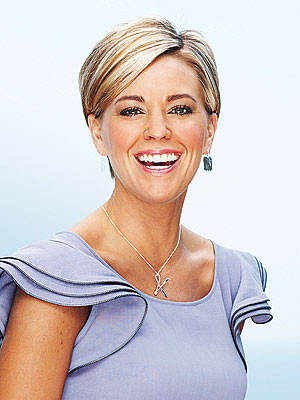 Released by Rick Porter/Zap2It
The show currently known as
"Jon & Kate Plus Eight"
will continue to air on TLC -- just minus the "Jon &" part.
The cable channel announced Tuesday (Sept. 29) that the show will "adapt to the changing Gosselin family" by taking a new title. Husband Jon Gosselin is gone, and the show will now be called just "Kate Plus Eight." The retitled series will debut in November.
"Given the recent changes in the family dynamics, it only makes sense for us to refresh and recalibrate the program to keep pace with the family," TLC president and general manager Eileen O'Neill says. "The family has evolved, and we are attempting to evolve with it; we feel that Kate's journey really resonates with our viewers.
"O'Neill also says TLC is developing another Kate Gosselin project for a 2010 premiere. Jon Gosselin will still make occasional appearances on "Kate Plus Eight," "but on a less regular basis," the network says. It still has an exclusive deal with Jon.
Jon and Kate Gosselin announced in June that they were divorcing after several months of speculation about trouble in their marriage. The episode in which they announced their split set ratings records for TLC with more than 10 million viewers; since then, however, ratings have plummeted to below 2 million for the most recent episode.
"Kate Plus Eight" starts November 2nd