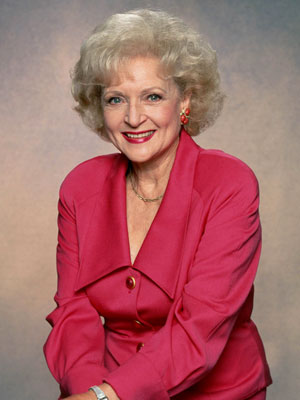 Released by Miss TV Girl
Betty White has been acting for more than 50 years and will be honored with the Screen Actors Guild Life Achievement Award. White, 87 will be presented with this well deserved honor on the Saturday, Jan. 23 on TNT and TBS at 7 p.m. ET/PT.
Now I may be a little bias when it comes to Betty White considering I have pretty much watched everything she has appeared in from movies to
television
. I beleive that along with Bea Arthur she is one of entertainments all time great
television
comedic actresses.
The iconic characters she has played from Sue Ann Nivens(The Mary Tyler Moore) to Rose Nylund (The Golden Girls) have brought such happiness and joy to so many lives.
As you probably can tell from this blog I watch a lot of television and I consider "The Golden Girl" to best comedy series of all time and a lot of that admiration is due in part to Betty White's performance.
On the big screen, she recently co-starred in "The Proposal"and can be heard as one of the voices in "
Ponya
". She's currently filming the Disney comedy "You Again" opposite Kristen Bell, Jamie Lee Curtis,
Sigourney
Weaver and Kristin
Chenowith
.
I congratulate you Betty White on this honor from SAG and Thank You for bringing so much laughter and joy to my life.