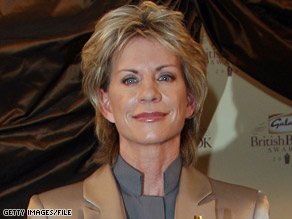 Released by Lifetime
Andie MacDowell, Daniel Sunjata, Diahann Carroll, Annabeth Gish and Ashley Williams to Star in First Adaptations of Patricia Cornwell Novels 'At Risk' and 'The Front'
Two Movies Adapted From America's #1 Best-Selling Crime Writer Set to Premiere on Lifetime in 2010
The trademark suspense and rich characters of #1 best-selling crime writer Patricia Cornwell's books come chillingly to life in At Risk and The Front, two Lifetime Original Movies starring Andie MacDowell (sex, lies and videotape), Daniel Sunjata (TV's Rescue Me), Diahann Carroll (TV's Grey's Anatomy), Annabeth Gish (TV's Brotherhood, Mystic Pizza) and Ashley Williams (TV's Good Morning, Miami, TV's Saving Grace). The films mark the first time ever that Cornwell's books have been adapted for the screen. Each movie follows Massachusetts state investigator Win Garano (Sunjata) and his ambitious supervisor, district attorney Monique Lamont (MacDowell), as they investigate cases. Carroll stars as Garano's grandmother, Nana; Gish plays Garano's co-worker, Sykes; and Williams is Stump, a detective who becomes Garano's love interest.
ABOUT "AT RISK"

At Risk introduces audiences to the high-powered and glamorous District Attorney Monique Lamont (MacDowell), who seeks to further her political aspirations by solving a decades-old murder. Not convinced of the purity of his boss' motives, Monique's colleague, Win Garano (Sunjata), grudgingly takes on the assignment. But, the deeper he delves into this cold case, the more twisted it becomes and more apparent that there is much more at stake. At Risk was a number one New York Times best-seller and is now a best-seller in the U.K.
ABOUT "THE FRONT"
Based on the second book of Patricia Cornwell's best-selling Win Garano series, The Front brings back high-powered and sexy Boston District Attorney Monique Lamont and her favorite ace detective, Win Garano, in a fast-paced mystery. Determined to generate much-needed publicity as her career in politics begins to lose its shine, Monique orders Win to re-open an investigation into an unsolved homicide that took place in one of Boston's small outlying communities served by "The Front," a coalition of small, local police departments that have banded together to fight crime.