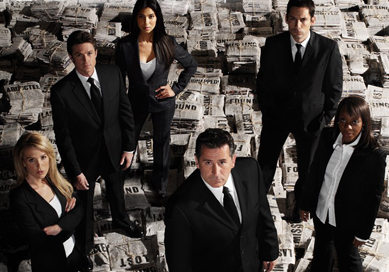 Released by Allison Waldman/TV Squad
Amid the CBS Summer Press Tour this week, the subject came up about why the network had
cancelled Without A Trace
. It wasn't ratings, which is clearly the truth because just this past weekend,
Without A Trace was pulling over six million viewers for a rerun
, doubling the number of people who tuned in for the brand new ABC series,
Defying Gravity
. Therefore, if
Without A Trace
was still capable of besting the fodder produced by the competition, why on earth would CBS dump it?
"Every show has its own life cycle," said CBS Entertainment President Nina Tassler, who went on to explain that the shows the network had in development were just too good to wait. In other words, The Good Wife, Three Rivers and NCIS: Los Angeles, none of which are proven hits, were more important than an established success.
Frankly, that's a lot of crap. It's bad business. If Without A Trace still worked -- and it did -- CBS could have put it into the mid-season rotation and waited for the fate of the new hour dramas. This decision was not about the life cycle, either. It was about money. Without A Trace was going to start costing CBS more money because the cast were all going to be re-upping for additional seasons. Rather than pay the fare, CBS let it go.
What doesn't add up to me, though, is why another network didn't pick up the show. NBC has no room for a 10 o'clock show -- thanks, Jay Leno -- but what about ABC or Fox? You think either of those networks wouldn't mind about six million loyal viewers tuning in and perhaps sticking around for more?
By the way, I recently cleared out my DVR and watched the final two episodes of Without A Trace. Tassler is right that the show went out while it was still vibrant and strong. It still seems as though it was too soon. There were a couple of more years left in that series, a couple of more good years.